BIPOC of Emotions Anonymous Conference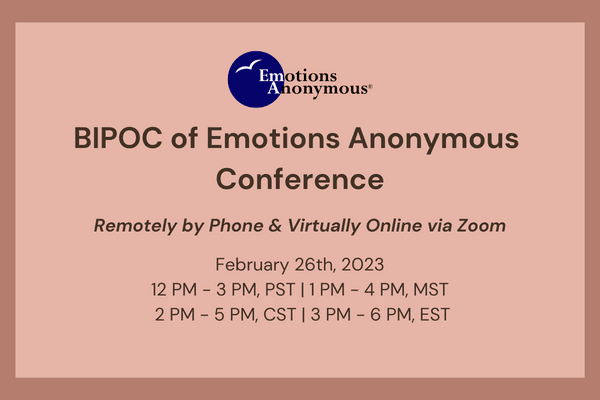 BIPOC of EA Conference is a safe and sacred meeting space ONLY for people who identify as Black (African American), Indigenous (Native American), and People of Color. People of Color refers to any non-White identity, including Latinx/Hispanic, Asian, Pacific Islander, Middle Eastern, etc. Some may prefer to identify as members of the Global Majority. In this sacred space, we can share without fear of retaliation or judgment.
Conference Schedule —
* 3 PM, EST - Opening
* 4 PM, EST - Discussion
* 5 PM, EST - Next Steps
Zoom Meeting ID: 890 2274 0362
Online Passcode: 404667
Phone Number: +1 309-205-3325
Phone Access Code: 404667#
If you have any questions, please reach out to the conference contact via email or phone call.