Emotions Anonymous Pamphlet Retreat - Disruptive Behavior: How To Build Unity in the Fellowship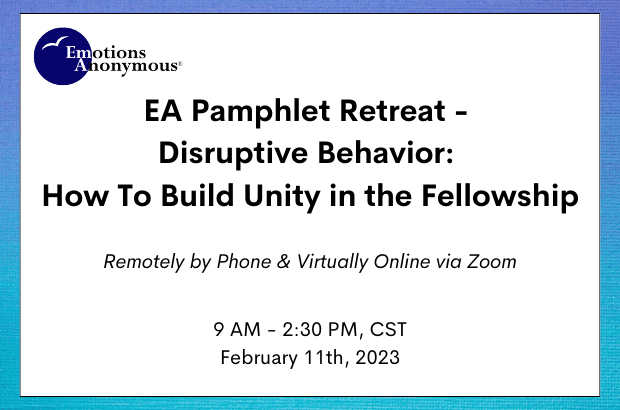 No registration is required to participate in this retreat.
The literature used during the retreat is Handling Disruption (Item #62), EA Administrative Concepts (Item #67) [Free to Download], Best Practices for Healthy Groups (Item #87) [Free to Download] and the It Works If You Work It Book (Pages 49-61). Please purchase your literature by January 23, 2023 to allow for shipping (The suggested delivery time is at least 2 weeks. We have no control over USPS delivery schedules.).
The outline for discussion will be around the Handling Disruption (Item #62) packet and the other materials are supporting literature that people are encouraged to read.
If you have any questions, please reach out to the event contact via email, phone call, or text.
Zoom Meeting ID: 882 3097 6360
Online Passcode: 384619
Phone Number: +1 309-205-3325
Phone Access Code: 384619#