EA Through the Holidays: Christmas Eve Meetings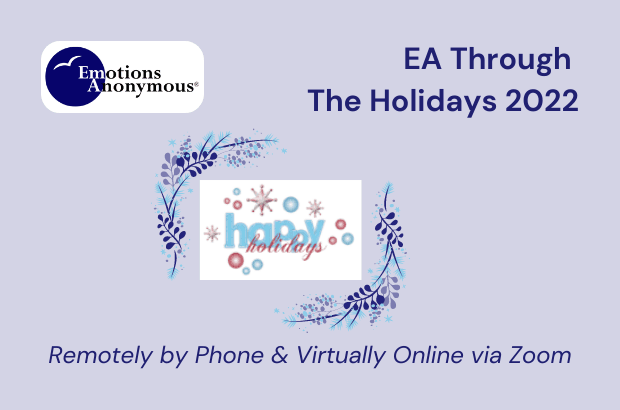 There are three FREE meetings that are here for YOU to provide emotional support & connection during the holidays!! Come to be inspired by Pamphlets, Stories, Speakers, and Topic Discussions.
Morning: 11 am EST/ 10 am CST/ 9 am MST/ 8 am PST
Afternoon: 3 pm EST/ 2 pm CST/ 1 pm MST/ 12 noon PST
Evening: 8 pm EST/ 7 pm CST/ 6 pm MST/ 5 pm PST
Zoom Meeting ID: 903 258 2457
Zoom Online Password: Holidays
Join by Phone —
Phone Number: +1 646-558-8656
Zoom Meeting ID: 903 258 2457#
Phone Passcode (Participant's Access Code): 67673352#
International Phone Number: Use the link to get the call-in phone number for your country. The Zoom Meeting ID & Phone Passcode are the same.